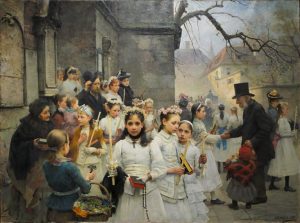 Faith Formation/Religious Education classes are for children who do not attend Immaculate Heart of Mary School: Immaculate Heart of Mary parish is focused on catechesis for the whole family, supporting parents in utilizing the graces received upon their child's baptism, to be the first educator of their children.
The Faith Formation program meets twice a month on Sunday mornings from 9:30-10:45 am.  On the first Sunday of each month, children have lessons with their catechists in the classrooms, while the parents meet in the DeMazenod room where they are given tools to foster the Catholic faith at home with their family. The second class of the month is a lesson for the children with their catechists. The Faith Formation program runs from October through April.
Contact Stefanie Iwan for any questions about the program or payments: pa@ihmparish.com.