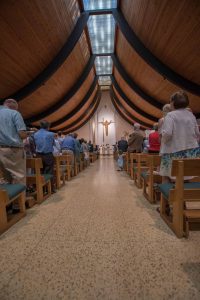 Join Our Parish!
We embrace those interested in becoming a member of the Immaculate Heart of Mary Parish family. To register as a parishioner, you may complete the Parish Registration Form online or download our form here and drop off at parish office:
Immaculate Heart of Mary is a parish dedicated to the formation of parishioners of all ages. We have a thriving school, active faith formation classes and programming for toddlers through seniors! We are faithful to the Magisterium and, therefore, obedient to the bishop of the diocese of Grand Rapids. If you have any questions about joining our parish, please contact our parish secretary, Janet Potoczny at #241-4477.
Those who are interested in joining the Catholic Church should visit our RCIA page.