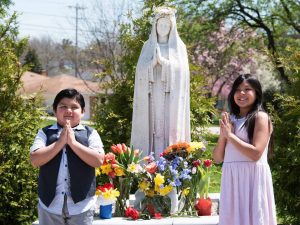 The Killgoar Foundation is an endowment fund that provides critical support to Immaculate Heart of Mary School through tuition assistance and funding of other educational needs. Since 1998, generous donors have enabled the foundation to provide well over $2,800,000 to the school.
Building the Killgoar Foundation is essential to the future of our school which is a primary parish ministry and continues to be a critical feeder to Catholic Central High School. Our 60+ year tradition of academic excellence, extra-curricular, athletic, and service opportunities in a Christ-centered environment is well-known. Strengthening the Killgoar Foundation means tuition assistance for more families in need, lower tuition for all families, and a stable enrollment to help assure that IHM School will be here to serve future generations of parish and neighborhood children.
Contributions to the Killgoar Foundation are welcome at any time and may include gifts of:
Ways to donate:
Blue Killgoar envelopes in the offertory basket at Mass
Annual gifts
Donate stocks and securities (with potential tax advantages)
Set up scholarships or memorials for loved ones (Legacy gifts)
Funeral donations
Include the Killgoar Foundation in your will or trust
Employee matched gifts – many companies have funds to match employees' donations
Designate the Killgoar in your United Way drive – Code #1991
To make a cash gift, write your check payable to: The Killgoar Foundation and mail it to: Killgoar Foundation, 1935 Plymouth Ave. SE, Grand Rapids MI 49506. If you are giving in memory or honor of someone, indicate that person's name on the memo line.
To make a donation online with credit card please click here:

Updating Alumni/Alumnae information:
To update IHM School alumni/alumnae information for parents, children, siblings, classmates, friends, please click here:

---
Every gift is meaningful and will make a difference in the lives of children today and in perpetuity. Only interest earned from foundation funds is spent. The corpus remains intact and will continue to grow.
---
For more information, contact Maureen or Mark Norton, Development Directors, at killgoarfoundation@ihmparish.com.
2023 Dutch VanderVeen Service Award, Mike and Pat Jennings!